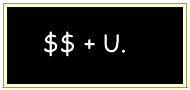 Moneychimp seeks to be the most coherent, logical, useful and accessible financial education resource on the face of the earth. (We're about halfway there.)
The name comes from that old joke about the dart-throwing, stock-picking monkeys. A second reason for the name is that it carries a built-in disclaimer: this site is obviously not claiming to be an authority on anything. We try hard to be accurate, but you should always double check whatever you see here with additional sources. (We try to provide links to help you do that.)
If you think we made a mistake, let us know. You can also send in your ideas for a future topic. And if you feel an urge to throw a little praise our way, well you just go right ahead.
Speaking of Praise...
"...Ever-helpful..."
- The Motley Fool

"...Useful tools...clean and simple..."
- American Association of Individual Investors

"...Quirky...informative..."
- Los Angeles Public Library

"...Content is substantial, sophisticated..."
- Forbes

"...You'll be second-guessing that CFO in no time..."
- Harvard Business School

"...This chimp definitely sat in the front row..."
- SmartMoney.com
They also like us at Barron's, The Chicago Tribune, CNN, Oprah, USA Today, The Wall Street Journal, Kiplinger, Seeking Alpha, Zacks ... and NPR's Marketplace show (we have a nice face for radio, apparently).
Privacy Statement
This site does not gather personal information from users.

Our advertisers use cookies to show you ads they think you'll find relevant. See this preferences page from Google.